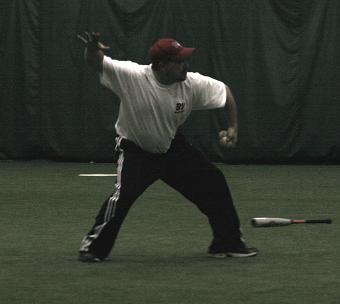 What many don't know is what this man behind the BV Program sacrifices on a daily basis just so the talents of these remarkable young BV Red players can be seen. Off the field, he is a 6th grade teacher and a 7th and 8th grade boy's basketball coach. He and his wife, Brandi, have 5 children ages from 11 – 19. All but two are active in some type of sport(s). Although he oversees the BV Red programs from ages 9-14, Brian still makes time to attend most all of his children's events every year including concerts, awards assemblies, baseball, football, basketball games and cheering competitions – just to name a few. In addition, Coach Brian has also tutored many children who are struggling for whatever reason in order to help them through their problems so they can adapt or overcome and move on to achieve. That work was and is the basis to which BV Baseball was born and it is the premise on which he lives his life and it is the basis of what he teaches his players.. Adapt and Overcome.
Adapt – For instance, Pennsylvania has snow on the ground several months a year. Indoor training for these boys begins as early as January 2nd (which is still basketball season for most). The instruction is so incredible that some of the player's parents drive hours one way for practice just to drive hours back without complaint. That being said, the season doesn't end until often early August… and that's just playing time. Off-season is his busiest time of year recruiting new players and meeting with families and just basically running the program all the while being the head of a very active family of his own. Still somehow, he finds the time for each and every one.
Overcome – Here's the rumor, "Western Pennsylvania youth baseball can never compete with California, Florida, Georgia . . . i.e. the "warm weather" states. But the facts show that Coach Brian has found ways to prove to his kids that they can overcome any obstacles. The facts prove the BV Red have found ways to overcome . . . considering their 2nd Place finish at Cooperstown in 2011 with his 10U group, plus the BV Red's 6 other 12U Cooperstown Championships (which, by the way, is a Cooperstown Dreams Park record). In addition, the BV Red won a 13U National Title in 2004 and were this year's 14U "Runner-up" at Disney's Elite 32 while competing against extremely talented teams from across the nation. Clearly, these achievements prove that Coach Brain's BV Red are finding ways to overcome.
Those who know Coach Brian best will tell you that his strength is his ability to lead and succeed when others fail. But win or lose, He ALWAYS finds a way to hold his head high and jog off the field knowing that he did the best job he could do for his kids. So, such is the stuff that a truly deserving National Coach of the Year is made of. An award spanning all age groups, TravelBallSelect.com is proud to name Coach Brian Smith as the 2011 National Coach the Year.