The Beaver Valley Baseball 15U -18U program focuses on playing tournaments at College fields in front of college coaches.
In 2018 & 2019 the Beaver Valley 17U Red played at:
Kent State University
University of Pittsburgh
University of Virginia
Radford University
University of Richmond
Miami of Ohio
Cincinnati University
Randolph Macon College
Lynchburg University
Virginia Tech University
West Virginia University
University of Michigan
North Carolina State University
Are you in the right program? Are you playing in front of college coaches?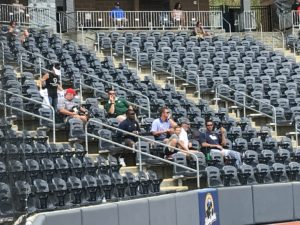 In 2018 & 2019, the following college coaches attended Beaver Valley games:
Kent State University
Penn State University
Youngstown State University
University of Maryland
Louisiana State University
Virginia Tech University
University of Pittsburgh
North Carolina Central University
College of William & Mary
Radford University
North Carolina State University
University of Virginia
West Virginia University
University of Michigan
Eastern Michigan University
George Mason University
James Madison University
Alderson Broaddus University
Northwood University
Randolph Macon College
University of Richmond
Cincinnati University
UMBC
Highpoint University
..and more