Welcome to Beaver Valley Baseball
We are an elite youth travel baseball program with the goal of developing every player's individual skills. We accomplish this through our winter training program and spring tournament play. Our indoor training is held at Hitters, Hackers & Hoops in New Castle, Alexanders in Gibsonia and Next Level Indoor Sports Facility, New Waterford, OH. The practice program is designed to start with basic mechanics and through repetitive drills, build on the foundation each week. Practices are designed to be energetic and fast paced. We work from the ground up with all of our teams no matter what age group. We will start with the most basic of skills to ensure that the players are executing them correctly. This includes simple throwing mechanics, the mechanics of the baseball swing, defensive play, pitching and others.
As stated above, the main goal of our program is for each player to develop advanced baseball skills. We hope that each participant grows as a baseball player and as a person.
Lastly we hope that the boys develop friendships and have experiences that they will remember for the rest of their lives.
We have won Coopertown 8 times, which is a national record.  We also have won a national championship in Disney in 2004 (13U), also, we frequently attend Ripken's tournament in Baltimore, MD.  We will also send teams to Sports at the Beach in Rehoboth, Delaware. Most of the other tournaments the we attend are typically no more than a 3 hour drive from Pittsburgh.
Baseball Youth Magazine features Beaver Valley Baseball
"Pennsylvania's Beaver Valley Baseball, Cooperstown Champions a record nine times, celebrates 20th Anniversary"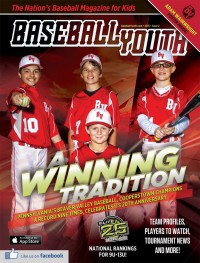 Weekend Results
Sign up for Beaver Valley Baseball Weekly Newsletter